Find out how our paid advertising strategy for Bell Truck & Van resulted in a 51% increase in unique sales in just 8 months.

Introduction
Bell Truck & Van is the North East's franchised Mercedes-Benz dealer, with dealerships in Newcastle, Spennymoor, Billingham and Stockton.
They sell the full range of new and used commercial vehicles including the Vito, Sprinter, Citan and much more. Covering all commercial vehicle needs such as servicing and repairs, they pride themselves on offering exceptional customer service across the North East.
Our Role
We were tasked with promoting specific models with the aim of increasing overall sales through online advertising, so we recommended focusing on the following:
Facebook Advertising
Google Ads
Our challenge was to sell the entire stock of several models including the Mercedes Vito and with a targeted advertising strategy we were able to deliver results.
Results
In 2019, Bell Truck & Van's traffic increased by 258% and unique sales increased by 51%.
Pay Per Click (PPC) – Google Ads
Our PPC campaign was running alongside existing campaigns and contributed to 67% of overall paid enquiries in 2019.
PPC traffic increased by 1,028% and leads increased by 461%.
We achieved an average conversion rate of 8.50% and the average cost per conversion was £8.77.
Facebook Advertising
Our Facebook advertising campaign included lead generation and traffic ads. From May to December 2019 we got a total of 2,952 on-Facebook leads and the average cost per lead was £5.60.
Our traffic ad got a total of 55,161 landing page views, with the average cost per landing page view at £0.30 and 1.143 website actions. The website actions include visitors calling, using the contact form and requesting more information.
Best performing Facebook traffic ad: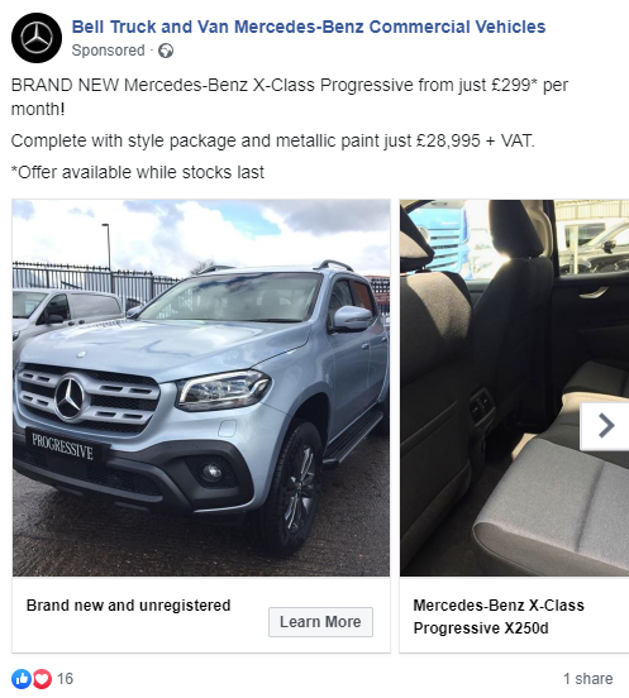 Give us a call today on 0191 4661455 to find out more about our results-driven digital marketing services. We can help you stand out from the crowd, take 1st place on the podium and start reaping the rewards.
Back