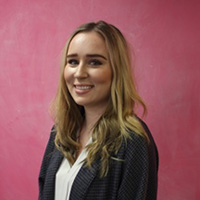 Sarah has worked within the digital industry since leaving university in 2012. Her experience is primarily agency-side and she has worked with some major brands including Warner Bros. As an all-rounder, she has experience managing campaigns in search engine optimisation, paid search, social media and affiliate marketing.
As SEO Consultant, Sarah's role is to ensure that client websites are optimised for search engines. She first got into SEO in 2012 and enjoys the fact that the industry is constantly evolving as she is happiest when learning and being challenged.
Sarah claims that she has been lucky enough not to have had a bad job, although she's had her moments. She worked as an Activity Organiser during the summer whilst studying and her role involved taking international students aged 10-15 on excursions. One time she had taken a group of children shopping and when it came to do the head count, she realised one of them was missing. There was a man hunt and it turned out that he had booked himself a table in Pizza Hut!