Podium is pleased to announce our new partnership with the North East's only anti-bullying, anti-racism hip hop group.
THE WORD Respect Hip Hop Group is a voluntary performance group that spreads messages about issues that impact young people today, with a focus on racism, bullying & discrimination.
The group's hip hop music and dance are shared through live shows and music videos with an aim to raise young people's self-esteem and to motivate them to follow their ambitions regardless of their cultural or social background.
We are working alongside THE WORD to help the voluntary group raise funds for future performances and are also sponsoring the organisation ourselves. Our marketing team is on a mission to develop an accessible digital presence for THE WORD so that we can help spread their message!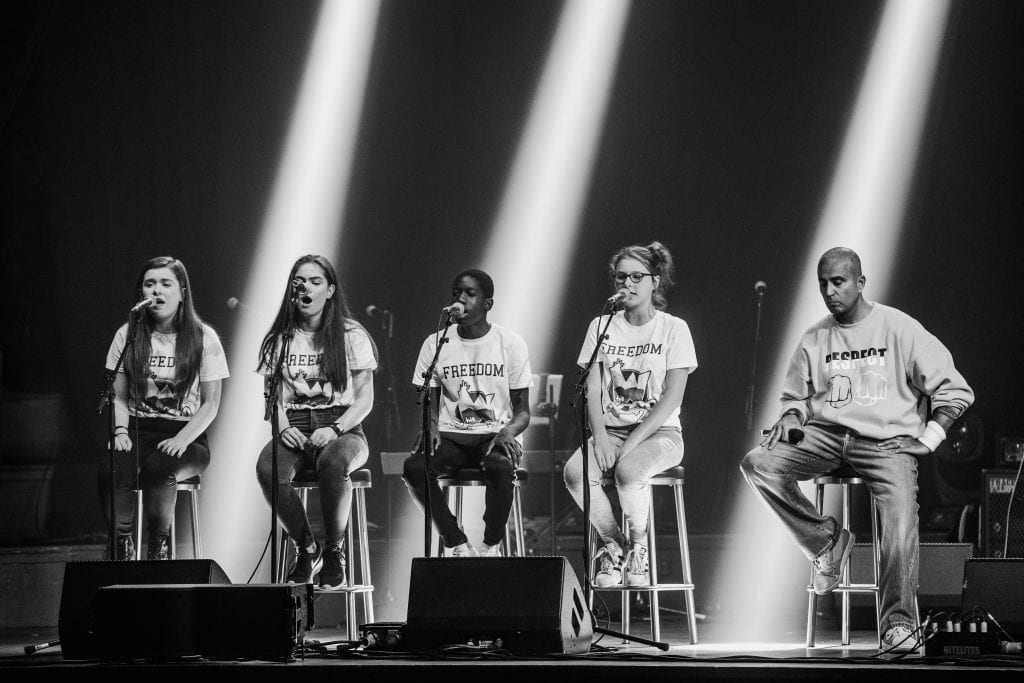 More about THE WORD Respect Hip Hop Group
THE WORD respect hip hop group was started 12 years ago by Amer Sheikh, Chemistry teacher and rapper with this social, cultural and educational enterprise.
Amer suffered race hate crime during his teacher training career and at other occasions and has since committed to be a volunteer to address this sensitive issue and inspire young people with the love of performing and teaching with positive rap music.

Over the years the group has diversified its message to the wider notion of respect – dealing with anti-social behaviour (crime, drugs, vandalism, pride in the community), Islamophobia, stigma around mental health issues & respect for the environment.
What started as a one-off show at a school talent show has become a novel group that has showcased its respect agenda theme to over 100 000 young people at 350 events across the United Kingdom.
How you can help support THE WORD
The voluntary project is seeking to raise £10,000 to enable the planning and co-ordination of free events based at primary, secondary and special schools culminating with shows at the Newcastle Eagles Community Arena.
Young people from various local schools, staff, families and volunteers will be part of the team involved in organizing, planning and performing at the events.
Guests at the free concerts will include thousands of children and staff from all the local authorities in the North-East of England.
The audience will be educated and entertained by THE WORD with their original positive tracks, music videos, short films, use of the group's educational tool-kit to motivate children, raise their ambitions and help them become good citizens of their wider communities.
Funding and sponsorship from individuals and companies is welcomed to keep this powerful project going with funds required by the start of the new academic year.
We are so grateful for your support – it will make a difference to thousands of young people across the North East.