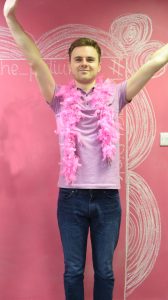 Tom started with Podium months ago, but we've kept him so busy, he hasn't had the chance to get properly initiated into the Podium team. The wait is over, so you can finally learn all the exciting details about Tom's life! Over to you, Tom.
Career background?
I studied Business Management at Northumbria University and spent the third year of my course doing an internship at a local SEO agency. I always knew I wanted to have a career in marketing or something to do with creative writing, so I'm happy to find myself 'on the Podium' at last.
Role at Podium?
A bit of everything so far – social media marketing, blog writing, producing infographics, anything to do with generating engagement and making brands as appealing as possible. Less appealing aspects of the role include polite-laughing at Steve's terrible puns.
Describe your perfect Saturday night?
Tough question – I'm torn between saying a night out with friends and just having a quiet one. Sometimes you get to Saturday evening and almost regret agreeing to a night out and want nothing more than to just chill with a film or play on the PS4 until the early hours.
Can you tell us a joke?
I don't know many clean, inoffensive jokes so I'll just go with this one:
Two fish in a tank. One of them says to the other: "Do you know how to drive this thing?"
Dream car?
I'm not too fussed about cars, but I'm a massive Bond fan so I'll have to go with the Aston Martin DB5 – wouldn't mind some of the gadgets either.
Best holiday you've ever been on?
Split, Croatia – went for a week with friends, and although we stayed quite sensible, we had loads of fun because we went to a three-day music festival (Ultra Europe) and met people from all over the world. Split is the second-largest city in Croatia, and I was amazed at how beautiful the architecture was in the city centre – an ancient fortress built by the Roman Emperor Diocletian. We were lucky enough to have our accommodation within the walls of the ancient fortress, and the streets were paved with marble.
Cheese or chocolate?
Chocolate. I'm not a monster.
Favourite sport?
Football. Unfortunately, I'm a local lad so have had to put up with Newcastle United my whole life – I was born just too late to remember the good old days of title challenges and historic European games, but at least I have seen Newcastle win two trophies: The Intertoto Cup (which was actually just a certificate), and the Championship League Trophy (which I suppose is nothing to really brag about either). That said, I can vaguely remember Sir Bobby Robson's stint as manager and I was lucky enough to see a few seasons with Shearer at the helm so it could be worse. At least I'm not a Mackem.
Contact us if you'd like to meet Tom in person and learn about his epic social media skills!