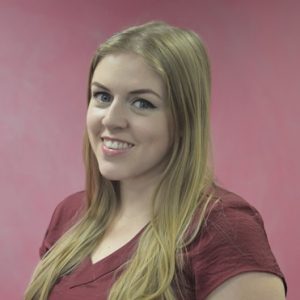 Graphic designer Rachael Ashard is the newest arrival at Podium. In order to get to know her a little better, we fired some typically taxing questions at her!
Over to you, Rachael…
Career background?
I studied Interior Design in the Midlands before moving back to Newcastle and switching to Graphic Design after graduation. I worked for a digital marketing agency in Newcastle for a year making adverts for social media, before joining Podium last month where I get to be much more creative!
Role at Podium?
Graphic Designer – so basically a glorified colour in-er
Describe your perfect Saturday night?
I'm torn between sitting in a cocktail bar with friends, or just chilling in front of Netflix with my boyfriend, surrounded by wine and chocolate.
Can you tell us a joke?
What do you call a woodpecker with no beak? A headbanger…
Dream car?
I'm not really fussed about cars, I've had my VW Beetle for 8 years and it's still going strong, so maybe just a fancier version of that!
Best holiday you've ever been on?
Disney World Florida when I was a kid, I'm saving up to go back and see Mickey!!
Cheese or chocolate?
Definitely cheese – followed by chocolate for dessert!
Favourite sport or pastime?
I love ice skating but apart from that I'm not really into sports, a day out shopping or seeing a movie are much more my thing!