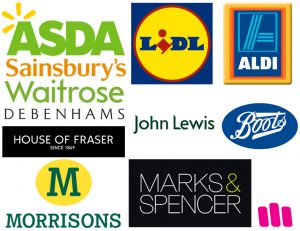 It's that time of year again: the finest creative minds in the marketing industry have emptied their bulging sacks all over our televisions.
Yep, it's Christmas advert season 2016 and, as usual, it's a hot sticky mess of colourful cheerfulness and/or melancholy aimed at convincing you to spend as much money as possible during the annual festival of greed.
These guys spend MONTHS working on this stuff, and production values are higher than ever. We're not going to sit here and say it's an art form because let's face it, that would be ridiculous.
Podium account director Steve Maybury has descended into the madness (quite literally) of this year's Christmas adverts, watching them all so you don't have to. He's now adopted the foetal position in the corner of the office and just keeps repeating something about a 'screeching handbag' (see 'Debenhams', below), so why not drop him a line on Twitter to thank him?
M&S
Plot: Mrs. Claus (Mary Christmas?) channels Claire Underwood from House of Cards to help a reassuringly middle-class young boy at Christmas.
Is it trying to make you cry? A bit, but they're strong tears of female empowerment.
Is it Christmassy? Very much so.
Podium says: Decent effort: reassuring to know that Santa's much better half (he's definitely punching…) isn't just sitting at home waiting for his return. The brother-sister dynamic works pretty well.
Rating (out of 10): 8/10
John Lewis
Plot: Father builds trampoline for child suffering from ADHD. Dog gets to it first and bounces. Also features some CGI animals.
Is it trying to make you cry? For once, no.
Is it Christmassy? Not really…
Podium says: The top dog (geddit?) has been knocked from his perch this year. Most of the six marks below are for the fact it has a dog in it. The music is also lacklustre.
Rating: 6/10
Asda
Plot: This is a series of adverts, not a full-length effort. Vignettes of family life during the festive season. Features bells: lots and lots of bells, and the voice of that woman who played Dobby on Peep Show.
Is it trying to make you cry? No.
Is it Christmassy? Yes
Podium says: ASDA have gone heavy on the sleigh bells here, really putting the jingle in their… erm… jingles. It's a tough watch, seeing these back-to-back. They're not especially funny and I wanted it to be over. Much like a visit to ASDA.
Rating: 4/10.
Sainsbury's
Plot: Overstretched CGI 'everyman' dad struggles to cope with the stresses of the season but learns the true meaning of Christmas and it all ends happily. Unexpected sci-fi overtones.
Is it trying to make you cry? Yes, though it's pretending it's not.
Is it Christmassy: Yes.
Podium says: We wanted to hate this. The catchy earworm music is twee Indie-bloke-with-a-guitar stuff [edit: James Corden, apparently. Huh.], and our eyes rolled when we realised it was yet another CGI effort. It's also very long, at 3mins35s. But it works really well and the message (people, not presents) is a sound one.
Rating: 9/10 – WINNER
Waitrose
Plot: A robin undergoes both trials and, if we're not mistaken, tribulations, to get home and eat a Waitrose mince pie.
Is it trying to make you cry? Yes
Is it Christmassy? Yes
Podium says: Nice, if unspectacular. Bonus points for the cute robin, whose journey is a metaphor for all of our personal [blah blah – Steve, remember to add some media studies A-level stuff here later]. Can't shake the feeling that mince pie probably cost several pounds.
Rating: 7/10
Lidl
Plot: Nice and simple – a family gets together for Christmas.
Is it trying to make you cry? We're still crying now. Is it fair to invoke dead grandparents? We're not sure.
Is it Christmassy? Yes, very much so.
Podium says: This advert basically represents this blogger's dream Christmas. Pure, undistilled family chaos. This pushes Sainsbury's very, very close. It even features a retro 80s computer, complete with games on tape. Excellent work.
Rating: 9/10
Debenhams
Plot: Annoyingly-voiced talking luxury consumer goods shriek at you and urge you to buy them.
Is it trying to make you cry? No, but I wept tears of misery.
Is it Christmassy? Yes, in that it represents the very worst of Christmas.
Podium says: BUY STUFF BUY STUFF BUY STUFF. This advert is horrendous. I don't need to be leered at by an oversexed coffee maker. And nor should you. Kill it with fire.
Rating: 1/10
Boots
Plot: Sombre-looking nurses are given free makeovers and then they're happy because saving lives wasn't enough: they need to be beautiful, too.
Is it trying to make you cry? I'm going to pretend that says 'did it make me want to never shop at Boots ever again?' Yes, yes it did.
Is it Christmassy: No.
Podium says: Oh my effing G, what is this monstrosity? This turned our stomachs slightly. 'Everybody's free to feel good', croons the dance-song-turned-into a-ballad musical number. I have no clue what message this is trying to send out, but to these eyes, it seems to be making an incredibly vacuous point about beauty vs personal worth.
Gets a bonus half point for not using that infernal 'here come the girls' song again.
Rating: 1.5/10
Aldi
Plot: A story of a Christmas (CGI, obvs) carrot, in the style of A Night Before Christmas, with the Home Alone music.
Is it trying to make you cry? No.
Is it Christmassy: Yes
Podium says: This might not be Aldi's fault, but watching the Debenhams and Boots adverts have completely drained our collective will to live. This is ok, we guess. That John Williams music is, as you'd expect, still awesome. It's about a carrot or something.
Rating: 6/10
House of Fraser
Plot: We have no clue. Something to do with glitter and an over-stylised anti-Christmas for attractive people (is anti-Christmas Mary's sister?)
Is it trying to make you cry? Yes. THROUGH YOUR WALLET.
Is it Christmassy: No.
Podium says: This advert makes me feel old and confused. Seriously, what's going on? Who is the angry girl singing the Fugees? Why are they all dancing like that? What's my name? Here: just take my money, I don't care any more.
Rating: 1/10
Morrisons
Plot: Child knows a lot about Christmas.  
Is it trying to make you cry? No.
Is it Christmassy: Yeah, it's got sleigh bells and stuff. Can I go home now?
Podium says: This is the Morrisons of adverts: bang average, and you'd watch a different advert if you had the choice. The kid is quite cute, possibly bordering on being a bit of a know-it-all.
Rating: 5/10