We all know how important SEO is for websites and you probably already know how beneficial it is for your business (if not – please talk to us).  But did you know it's as important to optimise your Facebook business page as well?
While creative posts can help you go viral and reach people, search engine optimization will help expose your Facebook page. So, with no further ado, here are some simple SEO tips to help you optimise your Facebook page:
Choose your name and claim your Facebook URL
Even though this tip seems straightforward, we were surprised by how many companies have not claimed their domain. URLs are important for search engine algorithms: when someone searches for your company you want your Facebook page to be one of the pages ranking.
Google search wants to know your brand name, not the facebook.com slash number, number, number. Your Facebook URL should be your brand name which would be the keyword people are searching for in Google, for example: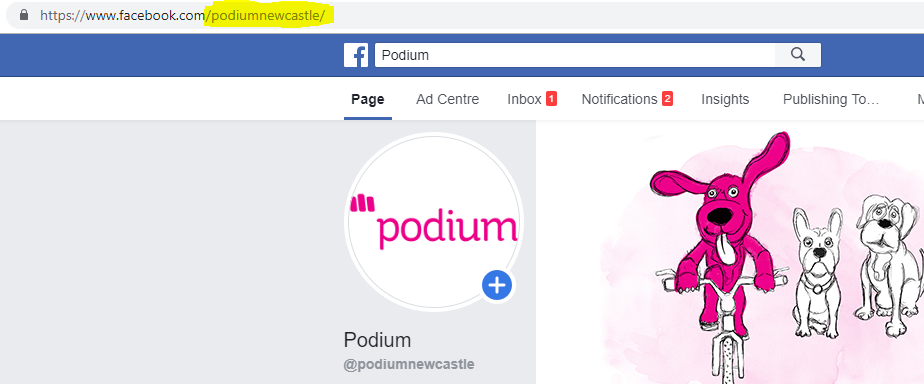 Choosing the right name for your page might seem like a no-brainer but remember the power of keywords.  In our experience, very long names end up looking spammy, for example, Tyne and Wear Hair, Nails, Make-up and Styling. Even though the thought of adding keywords is right, try not to overdo it because Google frowns on pages with overstuffed titles.
Here is a perfect example, Krispy Kreme is a highly searched company and a highly searched keyword, so putting that together with the location creates a great domain: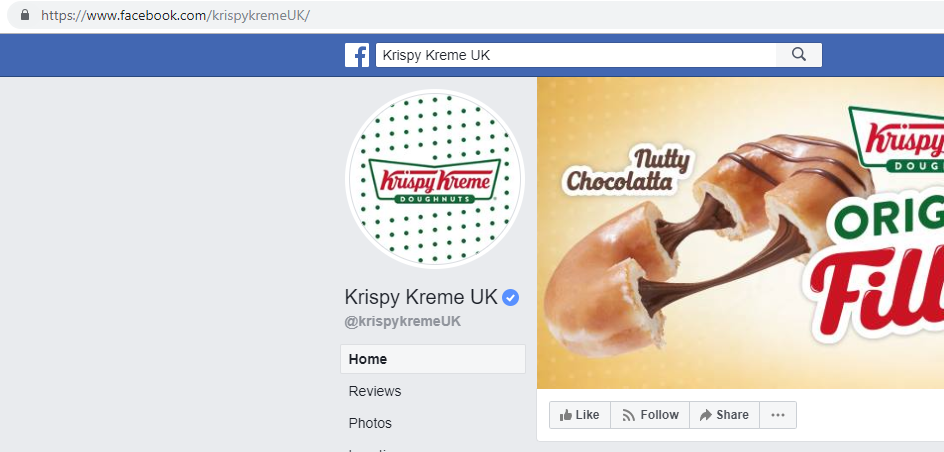 Use keywords on your page – in strategic locations
Just like traditional websites, keyword optimisation is fundamental for your Facebook business page, too. The key areas to use keywords are in the About section, your Story, your company description and your actual page name.
If you use a few keywords in all these areas, your business page will get picked up by Google and people searching those keywords will find your Facebook page easier.
Think about it this way: your SEO title and H1 is your Facebook page name and the meta description is your Facebook page 'About' section.
Build backlinks to your Facebook page
This is simple: the more inbound links to your page, the better your page is according to Google.  Backlinks can help increase referral and direct traffic to your website, which in turn will improve your ranking.
For starters, you can start by posting links to your Facebook page from your own website, other social media accounts or blogs.  Some other places to add your backlinks are:
About tab – in the about tab you can include your website under Contact info.
Page buttons
Pinned posts – Every time someone shares your post, someone may share it on another website which will create another backlink.
As your page grows and you are sharing more content, eventually other pages will organically start sharing your links or backlinks.
Optimise your posts and status updates
When posting updates on your Facebook page, remember to always write something on the description box, the text on a Facebook post serves as the meta description.  So, if you're posting a video, a photo or an event, remember to take advantage of the option to add text.
We manage tailored digital marketing campaigns using social media, SEO, website content and emails that will make your website perform better in search engines.  Contact us today on 0191 4661455 or email us at [email protected]
Back